Isle of Dogs Review: A Ruff-around-the-edges treat for humans of all breeds
No Spoilers in this Review
Isle of Dogs is a surreal treat for humans of all breeds. Could this stop-motion dog-themed movie set in a future Japan be the flick to get the mercurial Wes Anderson some long-awaited mainstream adoration?
I saw this film at a Preview Screening at a local Picturehouse Cinema, the fantastic CinemaCity in Norwich.

A cute canine cast – from Metro Weekly Full Link
Plot and Themes (No Spoilers)
The plot, as already outlined in the trailer, centres around a young boy called Atari who arrives on an island full of junk to find his lost dog Spots. It's not a simple boy-and-dog story, however as Wes Anderson and his writing collaborators Roman Coppola and Jason Schwarzmann have created a pacy critique on contemporary political lunacy set 20 years in the future. The underlying premise is that a disease called Dog Flu forces a Japanese provincial government to quarantine and remove all canines from the mainland. Atari ends up befriending a group of dogs on this Trash Island, including a lovingly characterised antihero called Chief, a stray voiced by Bryan Cranston. The rest of the story mixes broadish political commentary brush-strokes with heartstring-tugging momentsin a beautifully-realised world which left me itching to stay in my seat for another viewing.
The dogs speak American English, though the humans in Megasaki speak Japanese using simple expressions (and no subtitles) which are designed for the viewer to "get the gist of". This is a fascinating idea which almost works, though there just doesn't seem to be any obvious reason for it. I do wonder whether Anderson could have predicted the social media uproar about stereotyping Japanese culture, however well-intentioned his homage appears to be.
Cultural appropriation aside, it is hard to avoid the word "quirky" when describing a Wes Anderson flick, and yes the film does have an eccentric narrative. But this is the closest I've ever felt emotionally engaged with a Wes Anderson film, where often I find his style and worldview a little too idiosyncratic to fully embrace the immersion his worlds entreat. In this offering, however, the emotional core of the film is studiously crafted, from the relationships between the human characters and between human and dog. There were a few sniffles in the theater.
Visuals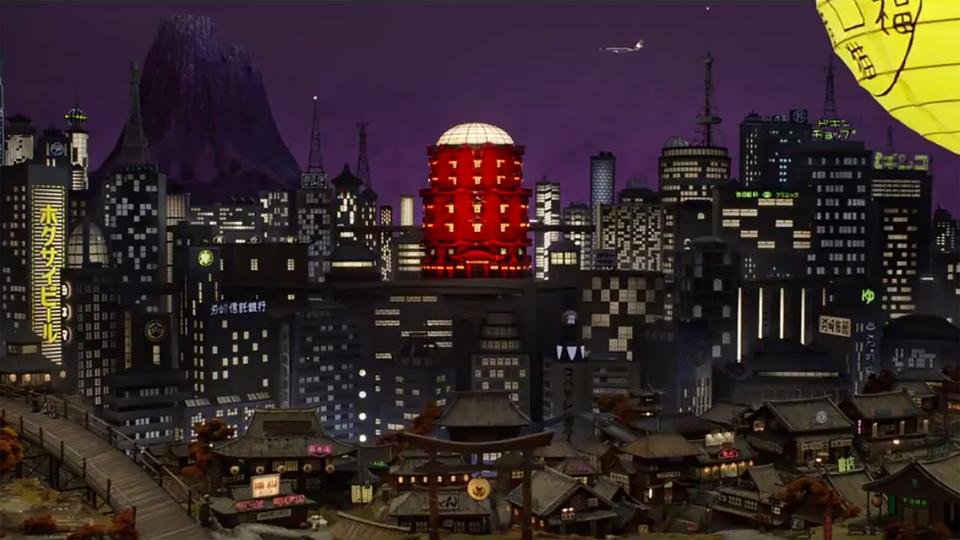 A panorama of Megasaki – from It's Nice That Full Link
The stop-motion visuals are, predictably, stunning to look at. Anderson brought over a sizeable portion of the visuals team from his first animated effort Fantastic Mr. Fox to create a fictional Megasaki City using 240 sets and 130,000 stills. The result is a beautifully handmade-style film, and even the piles of garbage in Trash Island conjure a minimalist beauty. Together with more standard cartoon animated elements used for television clips and intriguing takes on classic Japanese artwork seen in various backdrops, this film really is gorgeous to look at.
As with Anderson's previous work, everything on screen has been meticulously selected for inclusion. Even if the amount of content on the screen is often Spartan, there is still not enough time to take in all the little screen delights, so most viewers will be looking forward to DVD and Blu-Ray releases in order to ingest all the delicious treats that Wes Anderson throws.
Performances


A typically stellar group of actors for Wes Anderson – From Foxsearchlight.com Full Link
This director knows a lot of people. The cast-list for Wes Anderson films can be farcically imposing, and this film is true to form. Bill Murray, Edward Norton, Bryan Cranston, Jeff Goldblum, Scarlett Johansson, Harvey Keitel, Ken Watanabe, Greta Gerwig, Tilda Swinton… you get the picture. Special praise must go to young Canadian Koyu Rankin for his performance as 12-year-old Atari. As with Fantastic Mr. Fox, the voices of the actors resonate through the animated characters they portray and each role appears to be hand-crafted for the voice talent.
Soundtrack
If I've made it clear that the first star of this film are the visuals, the second is the music. There are classic tracks from Akira Kurosawa's Seven Samurai and Drunken Angel films, together with psychedelic rock and swing jazz from the 1950s and 1960s. These are the dressing for a stunning original score from Alexandre Desplat, who just won an Oscar for his work on The Shape of Water. If you've heard his name prior to that, he also won an Oscar with another Anderson film The Grand Budapest Hotel. Taiko Drumming provides the centrepiece for the score, although there are some whimsical forays into dreamlike electronic music and more jazzy interludes. It is a triumph
Quirks

Pro-Dog protestors in the fictional Japanese city of Megasaki – from technobuffalo.com Full link
The oddities in Wes Anderson films often provoke reactions similar to those toward a yeast extract spread. This film gave me moments of intense pleasure and annoyance, with the balance strongly in favour of the former. His labelling of items on the screen was pure pleasure for a cataloguing aficianado. As were the bizarre moments when characters wistfully looked into the distance. This happened once in the Fantastic Mr. Fox film when Mr.Fox suddenly stares at a wolf for no solid narrative reason. Why not? Similar scenes exist in this film, though not as indiscriminately.
Less successful was the reliance on sudden camera movements in the early parts of the film, whereby the only angle in which characters' heads could move was 90 degrees, and usually in the direction of the viewer. It was the cinematic equivalent of the non-existent word überkook.
Overall


Atari looks back at Rex, Boss and King – from thatericalper.com Full link
Anderson's second animated offering is a cut above his first. It is a genuinely beautiful film which provides a lot of treats, though is ruff around the edges. The clumsy cultural tourism is outweighed by stunning visuals, fantastic performances and a beautiful soundtrack. Barring an upset, this ought to win the first Academy Award for Wes Anderson in 2019.